Celebrating Activism Videos from PCSR conference May 2021
Published: 12 Dec 2021
Authored by: PCSR
1st speaker Susan Cousins : therapist, author of the book Overcoming Everyday Racism:Building Resilience and Wellbeing in the Face of Discrimination and Microaggressions and Equality, Diversity and Inclusion Project Officer at Cardiff University - @SusanCousins6 - speaking on
Being Brown Online
https://youtu.be/x4kftDGYZ0o
Community Videos
Mel Ciavucco, trainee counsellor and writer speaking on body image, eating disorders and weight stigma @melciavucco
Andrew Samuels, Psychotherapist, Professor, Activist, Writer and Co-Founder of PCSR speaks about the work of PCSR and the role of activism in Counselling and Psychotherapy. https://www.andrewsamuels.com/
SOCA Students of Colour and Allies BAME student group formed in reponse to the lack of training and support offerd by their college
2nd half of video : Vic Leeson Poet, Activist and Therapist working with children and young people who have expereinced trauma.
Manifesto for wokkers of the Young
2nd speaker: Mamood Ahmad, psychotherapist, coach and author of #empoweringyourtherapy series of books speaking on
How to inadvertently create a discriminatory Counselling and Psychotherapy Practice.
@ahmad_mamood
Community Video
Bex Simpson-Ryan @stigmainthebin and Becki Clitsome @BuddingTherapy discuss their journeys into Counselling adn Psychotherapy Activism
3rd Speaker Victoria Nelson Psychotherapist and Founder of Deaf4Deaf Counselling and Psychotherapy https://www.deaf4deaf.com/
speaks about Therapy for the Deaf Community
Community Videos
Shammi Kohli and Pretish Raja-Helm, co-foundrs of Aashna Cunselling adn Psychotherapy welcome you to Aashna.
PCU, ANDT and Therapists Connect
John Goss introduces the Psychotherapy and Counselling Union PCU. https://www.psychotherapyandcounsellingunion.co.uk/ Lesley Dougan speaks about the need for the Association of Neurodivergent Therapists ANDT. https://neurodivergenttherapists.com/ Peter Blundell, PCSR member and founder of Therapists Connect, talks about relational activism. https://www.therapists-connect.com/
4th Speaker Maria Albertsen Maria is the founder of Counsellors Together UK, working to end the culture and prevalence of unpaid work within counselling and psychotherapy. Here, she discusses Person-Centred Activism a relational and empathic model which we can use to create a robust and strategic framework to 'hold' a campaign." Recorded as part of National Counsellors Day
https://ukcounsellors.co.uk/person-centred-activism/

Community Videos
Chloe Foster LGBTQ counsellor and trainer speaking on the Importance of Pronouns.
rainbowcounselling
Free Guide to learn more about pronouns.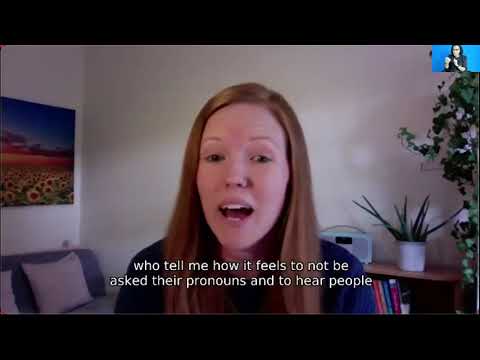 Chloe Foster The Importance of Pronouns
5th Speaker Ruth Allen an outdoor and online counselling psychotherapist, professional development coach, and experienced consultant, trainer and facilitator discusses the links between outdoor therapy and activism.
Reflecting on nature's unknowable and mysterious qualities, Grounded explores how we can therapeutically benefit from a deeper connection...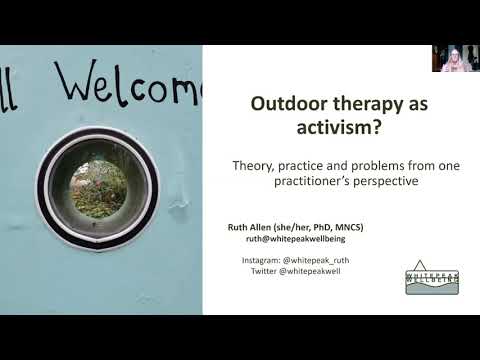 Outdoor Therapy As Activism with Ruth Allen
I'm sorry this recording of Ruth Allen cuts out after 17 mins. I'm trying to get hold of the full recording.
Community videos
Dr Gillian Proctor, psychotherapist, supervisor, trainer, PCSR member and Author of 'The Dynamics of Power in Counselling and Psychotherapy: Ethics, Politics and Practice' speaking about acting politically.
Clare Slaney, psychotherapist, supervisor, PCSR member and writer in dialogue with John Wilson, pychotherapist and co-founder of Online Events